meeting
Hotel Meetings & Wedding Services
Looking for rooms for meetings, places to get married, or a hotel that has space for special occasions? Look no further than the Comfort Inn & Suites Surrey.
Meetings and Events
We are one of the only hotels with meeting rooms in Surrey. Our fully equipped, tastefully furnished event and meeting rooms come with numerous amenities and services to turn your meeting or event into an absolute success! Enjoy complimentary high speed Wi-Fi, first-class audio-visual equipment, catering services, open spaces for breaks and more.
Weddings
When it comes to hotel weddings, reception venues or hotel wedding services, the Comfort Inn & Suites has it all. Our largest wedding venue can hold up to 180 guests comfortably and is destined to make your day truly memorable.
Tynehead Room
Ideal for mid-sized events and located on the easily accessible ground floor, our 976 square-foot Tynehead Room can accommodate up to 80 people. If you want to do a presentation, we have a built-in projection and sound system that seamlessly connects to your laptop. The 300 square-foot outdoor patio attached to the room is perfect for a break outdoors after a long meeting or event.
Fraser Room
Our mountain-view, second floor, Fraser Room boasts 476 square feet of meeting and event space. It is a great room for smaller, more intimate meetings. It features 12' ceilings and can accommodate up to 20 people in a variety of layouts.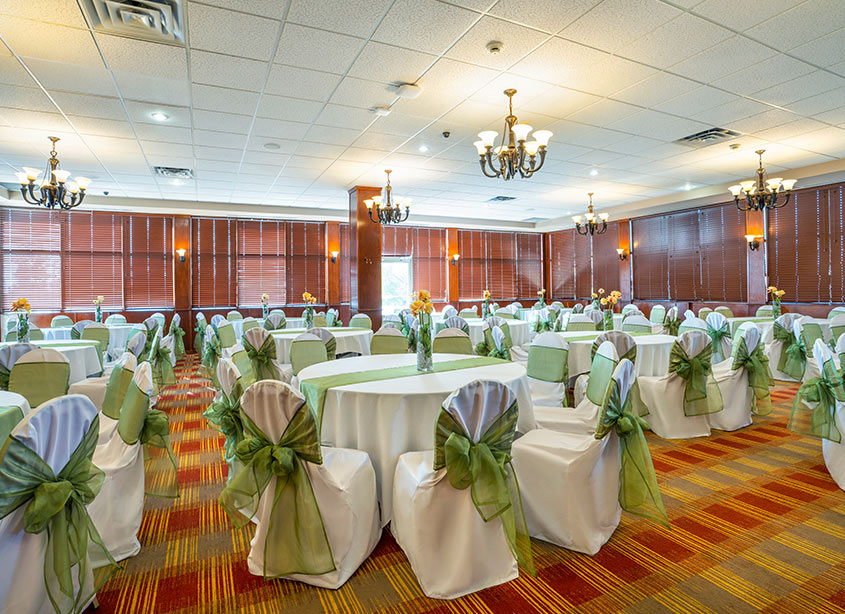 Bakerview Room
Our 2025 square-foot Bakerview Room is our largest meeting and event space and can accommodate up to 180 people. Not only does it feature 12' ceilings, a DJ booth, dancefloor, a built-in bar, and stunning views of the impressive Mount Baker - it also has a 500 square-foot, second-floor deck for outdoor fun.
Room Layouts
| ROOM NAME | TYNEHEAD | FRASER | BAKERVIEW |
| --- | --- | --- | --- |
| LOCATION | Ground Floor, Main Building | Second Floor, Next Building | Second Floor, Next Building |
| MEASUREMENTS | 26' x 36' | 17' x 28' | 45' x 45' |
| FLOOR AREA | 936 Square Feet | 476 Square Feet | 2025 Square Feet |
| CEILING HEIGHT | 11 Feet | 12 Feet | 12 Feet |
| ROOM NAME | TYNEHEAD | FRASER | BAKERVIEW |
| --- | --- | --- | --- |
| THEATRE SETUP | 80 | 40 | 180 |
| CLASSROOM SETUP | 40 | 18 | Half Rounds 70 |
| U SHAPE SETUP | 32 | 20 | 30 |
| BOARDROOM SETUP | 26 | 18 | N/A |
| BANQUET SETUP | 80 | 40 | 150 |
| HOLLOW SQUARE SETUP | 32 | 20 | 36 |